The Australian Prime Minister has met with King Charles III and the UK Prime Minister, after he had a "very emotional experience" while visiting the coffin of
Queen Elizabeth II
at Westminster Hall.
Speaking with Australian media after his meeting with the King, Anthony Albanese said it was an honour to "express my personal condolences to King Charles, but also condolences on behalf of all of Australia".
While declining to go into details of what was discussed due to protocols, Mr Albanese said it was a great privilege to meet the King in a private setting.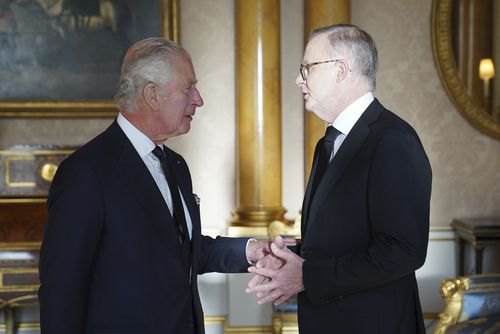 Earlier in the day, Mr Albanese attended the lying in state at Westminster Hall alongside his partner Jodie Haydon.
It was an experience the prime minister described as "very emotional".
"You could feel the raw emotion in Westminster Hall. It was quite an extraordinary moment in history, but also a very personal one," he said.
"I've attended that room many times as a political entry point to the houses of parliament, so it was a very different experience."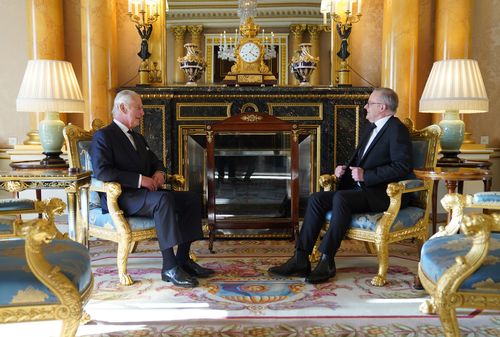 Mr Albanese said one of the last times he was at Westminster was to listen to a Brexit debate, and to be there today for such a solemn occasion was something he would "never forget".
The Australian leader also spoke with the new Prime Minister of the United Kingdom, Liz Truss.
"It was good to have our second face-to-face meeting, but our first meeting since her rise to the prime minister," Mr Albanese said.
He said they talked on a range of topics but did not go into "great detail".
Prime Minister lays flowers for the Queen
Following in the footsteps of many hundreds of thousands of people, the Australian Prime Minister emerged from the crowd in
Green Park
with his partner Jodie and a bouquet for the late monarch.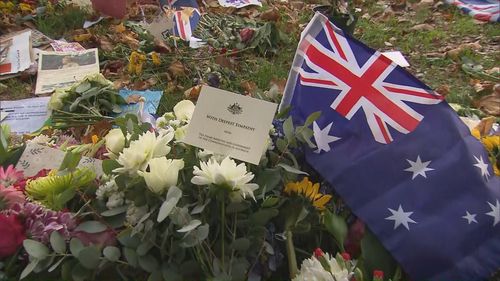 The bouquet included eucalyptus leaves for an
Australian touch
and a card which conveyed the nation's "deepest sympathy".
The couple placed their offering down beside an Australian flag already among the many tributes.
Mr Albanese then visited Westminster Hall to pay respects to the late monarch.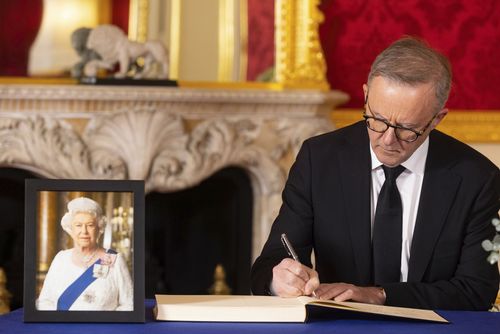 New Zealand Prime Minister Jacinda Ardern was the first foreign dignitary to pay her respects at Westminster Hall.
The leader mingled with mourners and curtseyed as she filed past the late monarch's coffin.
Canadian Prime Minister Justin Trudeau was also seen at Westminster Hall.
Tomorrow, world leaders will attend a state reception at Buckingham Palace with the Royal family.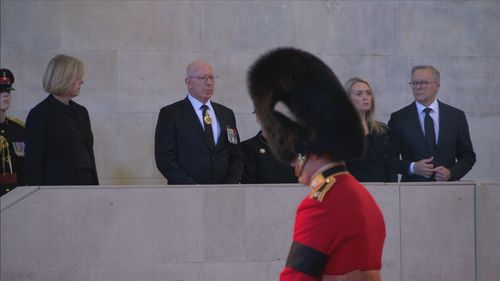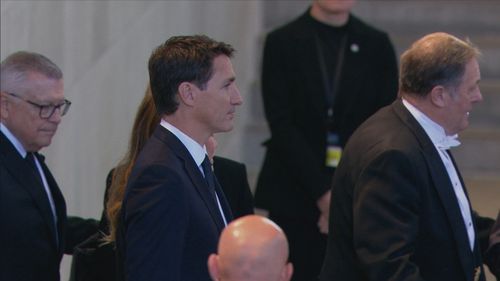 Public wait tirelessly for chance to farewell the Queen
The tide of people wanting to say goodbye to the queen has grown steadily since the public was first admitted to the hall on Wednesday.
On Friday, authorities temporary halted letting more visitors join the end of the line, which snakes around Southwark Park some 8 kilometers from Parliament.
Overnight, volunteers distributed blankets and cups of tea to people in line as the temperature fell to 6 degrees Celsius.
Despite the weather, mourners described the warmth of a shared experience.