Venus and Jupiter appeared to almost collide in the skies in the early hours of this morning sealing their affection with what's being labelled a celestial "kiss".
The two brightest planets in the sky appeared to meet from about 4.30am to sunrise over Australia in a phenomenon known as a planetary conjunction.
It happens about once a year but this year the pair looked closer than ever.
Although both planets looked very close they were in fact millions of kilometres apart but had been moving closer together over past weeks, astronomers said.
"Venus and Jupiter have been moving closer together over the past several weeks, so this romantic spark between them has been brewing for some time," said astrophysicist Dr Brad Tucker at the Australian National University.
They weren't the only stars of the show, with Saturn and Mars also shining bright very close by.
With Saturn and Mars playing maid of honour and best man, the four planets lined up on the same plane in a rare planet parade.
NASA describes a conjunction as a time when two planets appear to touch each other in the sky when seen from the Earth's point of view.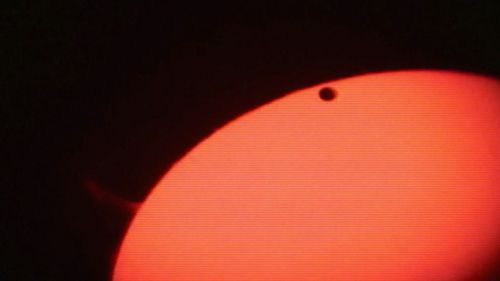 In Victoria, a conjunction of Venus and Jupiter was held at Lake Wendouree in Ballarat at 5am today as part of Dark Sky Week in the state.
After today, the planets will continue on their individual paths and appear as if they are moving far away when looked at from Earth.