Holiday excitement has been replaced with tears of frustration at
Melbourne
Airport as airlines struggle to cope with thousands of school holiday travellers.
Travellers around the country were told to brace for another round of
airport chaos
today, with millions of passengers set to jet off for the school holidays.
Melbourne Airport was already packed ahead of 6am this morning, with long queues for checking in.
Cancelled flights quickly led to anger at the Jetstar check-in.
"They turned around and told us we can book another flight for $1000 one way," one passenger said after having her flight cancelled.
"Surely they must have known earlier if there was a problem. Don't tell us when we get here."
Melbourne Airport is expecting 2.1 million people to pass through from today to July 14, compared to 1.7 million over the busy Easter period.
Sydney Airport forecast another 2.1 million people through the airport from June 27 to July 17.
This also easily outstrips Sydney's 1.8 million airport travellers seen over Easter.
Meanwhile, a memo from Swissport, a contractor for Qantas, has revealed that baggage handlers will be paid an extra $50 a day until the end of the year.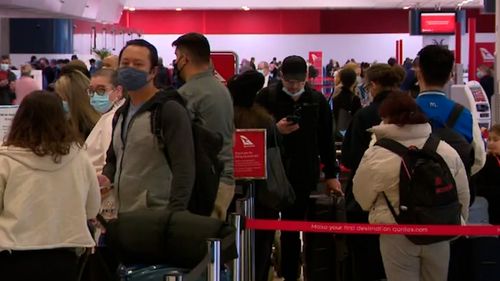 This measure aims to shore up a shortfall in workers.
Passengers are advised to get to the airport about two hours early for a domestic flight and three hours ahead of an international flight.
"It's great that passengers are arriving well ahead of their flights, but it's important to arrive as close as possible to the advised times, and not any earlier," Sydney Airport general manager of operations Greg Hay said.
"Some domestic airlines do not open baggage check-in until two hours prior and if you get to the airport too early you could end up having an additional wait."