Scott Morrison and Anthony Albanese gave their final interviews to The Oz.
By

Olivia Caisley and Jenna Clarke
Oh how things could have been very different.
As Scott Morrison and Anthony Albanese wake up Saturday for a final sweep for any vote available, one is on the verge of fulfilling his destiny to become the first "houso"-raised PM and the other is hoping for a second miracle.
In their final relaxed interviews with The Oz, Mr Morrison and Mr Albanese gave very candid responses about their personal thoughts on everything from raising children to their own ambitions.
Mr Morrison, a proud pentecostal Christian, revealed to Olivia Caisley that if he had not gone into politics, he would have become a pastor, while Mr Albanese said he had thought about becoming a lawyer.
The Prime Minister also revealed that his wife Jenny, famously unimpressed by politics, had also recently completed a floristry course and that he would love to have learned Hindi as a second language.
"I probably would have been a church pastor," Mr Morrison said, adding that you didn't need to be loved to be a good PM, but had to be "respected and be strong and listen".
Mr Morrison also said he was "terrified" of social media and worried about his young daughters  Lily, 13, and Abbie, 11, who have strict rules about  how they engage with it, including no phones in the bedroom.
"When our children do go on social media there's a contract about how it works and how Jenny, in particular, is able to see what's going on," Mr Morrison told The Oz, wiggling his hand as though he were signing a written document when talking about the agreement.
"They understand it's for their protection, perhaps because of what I do – and they see that world – they understand that it's not all nice. So they get that we're doing this to protect them."
In a separate interview from the back of a car on his final day of campaigning, Mr Albanese said he would love to have learnt Italian as a second language and revealed that he would have gone into the law if not drawn to politics.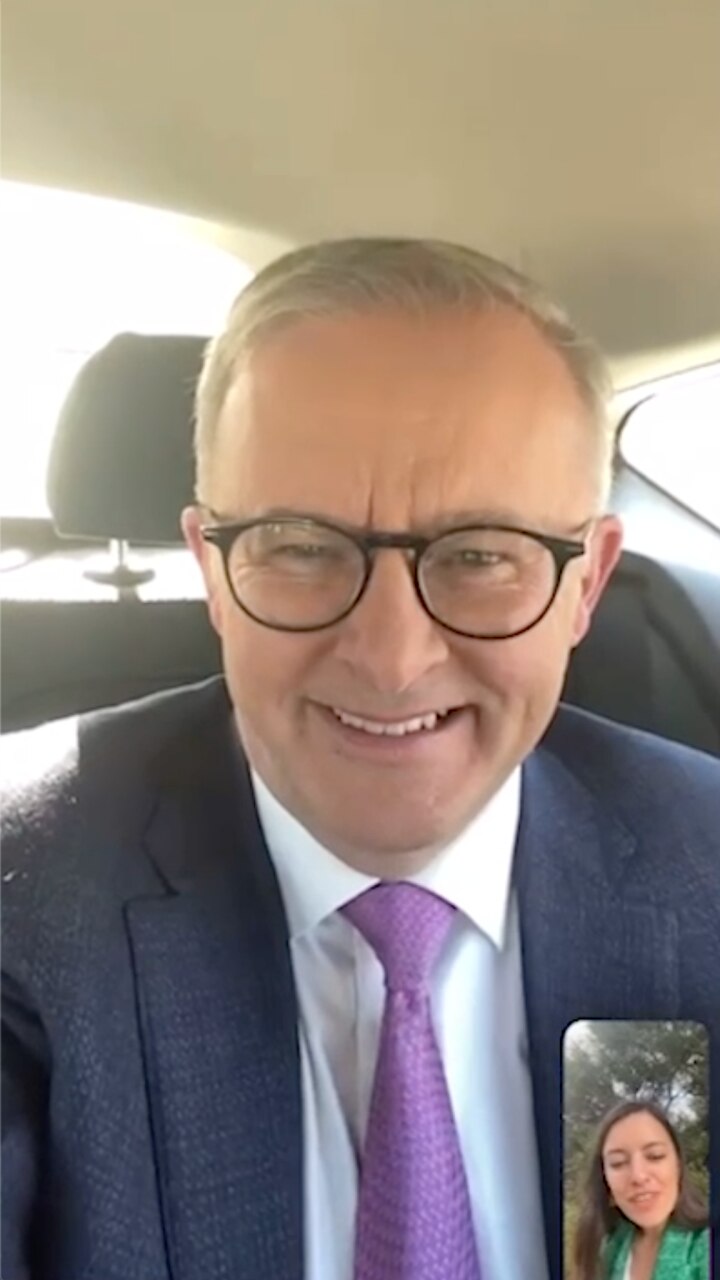 He also said he looked up to "my mum, my late mum" and said while you didn't need to be loved to be a great prime minister, "it does help".
While Mr Morrison said the word he most related to Australia was "mate", while Mr Albanese said he would describe our country in one word as "wonderful".
Mr Morrison and Mr Albanese were asked about the single issue they felt concerned young Australians, ahead of 4.4 million people under 35 casting their vote today.
Mr Morrison didn't take a second to share his answer: jobs.
"There's a real ambition for people to be their own boss. To be in charge of their own lives. And they're quite confident about that. That's fantastic. And my point to them is, if you want to realise that, well, you want a strong economy that enables it, and you want a government that gets that your aspirations are what's important, not the governments," Morrison said.
"I've always seen it for young people. One of the things that I've most enjoyed about politics is working in youth policy that gets young people into jobs, or gets them into trades, or gets them into business or, if that's what they want, to go to university, fine. But I think there are so many more different choices that young people can make, to realise their aspirations."
Albanese said under a government he leads, young people will have more certainty in their lives.
"Security. Is the big word. People who are younger than my generation will do three, or four, or maybe even more careers, they're really uncertain about being able to have that permanent work. There's been so much casualisation, so much insecure work and it's really having an impact," Mr Albanese said.
"Climate change is just, I think, the number one issue for young people. Unfairly, older generations are essentially cashing in on not dealing with the challenge of climate change, but also the opportunity which is there. Young people get that renewables and the shift to cleaner energy will actually create jobs and make a difference to their lives.
When asked about climate change, Mr Morrison told The Oz "it has to be practical."
"I know young people love to be advocates for things. And that's great. That's passion. But the argument has been done and won."
"Our approach to climate is to not just solve the problem in Australia, but to make sure that Australia can solve the problem for the developing countries of the world. It is a global problem. So just getting Australia down to net zero by 2050, it doesn't solve it."
Not sure who to vote for? We compared the promises of both parties here.