French President Emmanuel Macron has been speaking from Brussells during the European Union's extraordinary summit on Ukraine.
Mr Macron condemned the actions of Russia and Vladimir Putin in invading Ukraine, saying hundreds of civilians have been killed.
"It's not a crisis, it's a war. It's a choice President Putin took to launch a number of military operations, massive military operations, not targeted ones, like he said," he said.
"They've killed several hundred Ukrainian civilians, as indeed we heard directly from President Zelenskyy a few hours ago, when we spoke to him."
Mr Macron said Putin wants to "make European history stutter, and to bring us back to illogical empire and confrontation".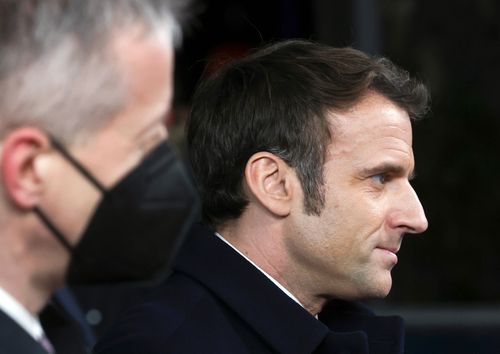 After stressing the unity of Europe, the French President said the European Union will be issuing harsh sanctions on Russia as well as its ally, Belarus, although he did not detail the exact measures.
"We have decided to inflict severe costs upon Moscow, on different sectors, on different persons," Mr Macron said.
"Further measures at a government level will be taken.
"Belarus is complicit in this offensive, so they will also be targeted in these measures. I wanted to underscore that because of what's been happening over the last few weeks.
"The other very important thing we all agreed on, which I want to underscore yet again, is our full support to Ukraine. Unprecedented economic aid has been approved."